Go native!
Plants for rain gardens need to be able to withstand brief periods of standing water yet be able to tolerate extended periods of dryness. While there are a number of plants that can do well under these conditions, the best are those native to our region. Native plants have evolved to thrive in our local environment and provide great habitat for beneficial insects, including bees and butterflies.
The plants below are recommended for use in rain gardens in Southwestern Pennsylvania.

salt tolerantsunny rain gardensshady rain gardensshrubs/trees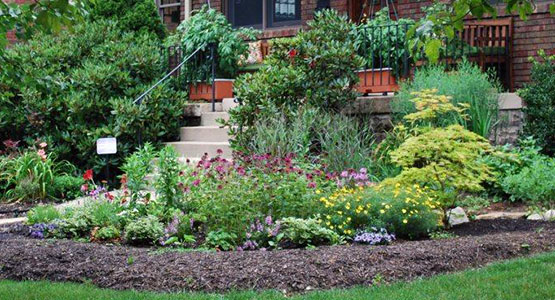 Deciduous Trees
Black Gum (Nyssa sylvatica)
Cherry Birch (Betula lenta)
Honeylocust (Gleditsia triacanthos var. inermis)
Horsechestnut (Aesculus hippocastanum)
Japanese Pagodatree (Sophora japonica)
Kentucky Coffeetree (Gymnocladus dioica)
Magnolia (Magnolia spp.)
Maidenhair Tree (Ginkgo biloba)
Red Oak (Quercus rubra)
Serviceberry (Amelanchier spp.)
White Ash (Fraxinus americana)
White Oak (Quercus alba)
Witchhazel (Hamamelis spp.)
Perennials
Adam's-needle Yucca (Yucca filamentosa)
Blue Fescue Grass (Festuca spp.)
Candytuft (Iberis sempervirens)
Daylily (Hemerocallis spp.)
Fountain Grass (Pennisetum alopecuroides)
Hosta (Hosta plantaginea)
'Karl Foerster' Reed Grass (Calamagrostis acutiflora 'Karl Foerster')
Lilyturf (Liriope spicata)
'Powis Castle' Artemisia (Artemisia x 'Powis Castle')
Sea Lavender (Limonium latifolium)
Sea Thrift (Armeria maritima)
Sedum 'Autumn Joy' (Sedum spectabile 'Autumn Joy')
Silver Mound Artemisia (Artemisia schmidtiana 'Silver Mound')
Shrubs/Groundcovers
Alpine Currant (Ribes alpinum)
Arrowwood (Viburnum dentatum)
Bayberry (Myrica pensylvanica)
Bearberry (Arctostaphylos uva-ursi)
Blueberry/Cranberry (Vaccinium spp.)
Chokeberry (Photinia spp.)
Gray Dogwood (Cornus racemosa)
Hydrangea (Hydrangea spp.)
Inkberry (Ilex glabra)
Lilacs (Syringa spp.)
Mockorange (Philadelphus coronarius)
Potentilla (Potentilla fruiticosa)
Purpleleaf Sand Cherry (Prunus x cistena)
Rock Cotoneaster (Cotoneaster horizontalis)
Rose-of-Sharon (Hibiscus syriacus)
Saltspray Rose (Rosa rugosa)
Scotch Broom (Cytisus scoparius)
Siberian Pea (Caragana arborescens)
Snowberry or Coralberry (Symphoricarpos spp.)
Spreading Cotoneaster (Cotoneaster divaricatus)
St. Johnswort (Hypericum spp.)
Sumac (Rhus spp.)
Vanhoutte Spirea (Spirea x vanhouttei)
Willow (Salix spp.)
Winterberry (Ilex verticillata)
Conifers
Baldcypress (Taxodium distichum)
Colorado Spruce (Picea pungens)
Eastern Redcedar (Juniperus virginiana)
Jack Pine (Pinus banksiana)
Japanese Black Pine (Pinus thunbergii)
Japanese White Pine (Pinus parviflora)
Larch (Larix spp.)
Mugo Pine (Pinus mugo)
Ponderosa Pine (Pinus ponderosa)
White Spruce (Picea glauca)
'Beechwood Blend' (Lobelia cardinalis x siphilitica)
Bee-balm (Monarda didyma)
Big Bluestem (Andropogon gerardii)
Blazing Star (Liatris spicata)
Blue Vervain (Verbena hastata)
Boneset (Eupatorium perfoliatum)
Bottle Gentian (Gentiana clausa)
Bottlebrush Grass (Elymus hystrix)
Cardinal Flower (Lobelia cardinalis)
Common Sneezeweed (Helenium autumnale)
Culver's Root (Veronicastrum virginicum)
Flat-topped Aster (Aster umbellatus)
Great Blue Lobelia (obelia siphilitica)
Green-headed Coneflower (Rudbeckia laciniata)
Joe-Pye Weed (Eupatorium fistulosum)
Marsh Marigold (Caltha palustris)
New England Aster (Aster novae-angliae)
New York Ironweed (Vernonia noveboracensis)
Oxeye (Heliopsis helianthoides)
Pink or Swamp Milkweed (Asclepias incarnata)
Purple Bergamot (Monarda media)
Purple-stemmed Aster (Aster puniceus)
Rough-stemmed Goldenrod (Solidago rugosa)
Short's Aster (Aster shortii)
Swamp Rose Mallow (Hibiscus moscheutos)
Switchgrass (Panicum virgatum)
Tall Sunflower (Helianthus giganteus)
Tall Tickseed (Coreopsis tripteris)
Three-lobed Coneflower (Rudbeckia triloba)
White Beardtongue (Penstemon digitalis)
Wild Rye (Elymus virginicus)
Basil Balm (Monarda clinopodia)
Blue-eyed Grass (Sisyrinchium angustifolium)
Creamy Violet (Viola striata)
Golden Ragwort (Senecio aureus)
Hairy Woodrush (Luzula acuminata)
Maple-leaved Waterleaf (Hydrophyllum canadense)
Marginal Wood Fern (Dryopteris marginalis)
Marsh Marigold (Caltha palustris)
Meadow Phlox (Phlox maculata)
Meadowsweet (Spiraea alba)
Monkey Flower (Mimulus ringens)
Northern Blue Flag (Iris versicolor)
Sensitive Fern (Onoclea sensibilis)
Spiderwort (Tradescantia virginiana)
Spreading Jacob's Ladder (Polemonium reptans)
Summer Phlox (Phlox paniculata)
Tall Meadow Rue (Thalictrum pubescens)
Thin-leaved Sunflower (Helianthus decapetalus)
Virginia Bluebells (Mertensia virginica)
White Turtlehead (Chelone glabra)
Wild Geranium (Geranium maculatum)
Woodland Sunflower (Helianthus divaricatus)
Arrowwood (Viburnum dentatum)
Common Elderberry (Sambucus canadensis)
Hackberry (Celtis occidentalis)
Meadowsweet (Spiraea alba)
Ninebark (Physocarpus opulifolius)
Rosebay (Rhododendron meximum)
Silky Dogwood (Cornus amomum)
Spicebush (Lindera benzoin)
Tupelo (Nyssa sylvatica)
Wild Hydrangea (Hydrangea arborescens)
For more information or to see pictures of these plants, please visit the Audubon Center for Native Plants website or stop in at Beechwood Farms Nature Reserve at 614 Dorseyville Rd., Pittsburgh, PA 15238.